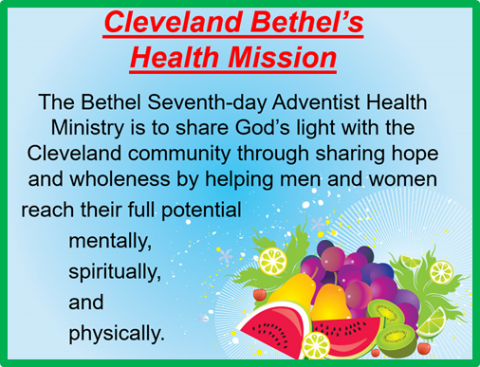 - General Conference Adventist Health Ministries
- North American Division (NAD) Health Ministries
 COVID- 19:
-  Ohio Department of Health & COVID-19 
-  Coping with COVID-19 Anxiety
-  3ABN  After COVID What's Next- Get Your FREE book
Adventist Programs:
 ​
​
1.  Eat nutritiously (many choose a plant-based diet).
2.  Exercise regularly and often to improve your body, mind and spirit.
3.  Drink plenty of water.
4.  Spend time in sunlight.
5.  Practice temperance: Use good things moderately; avoid bad things.
6.  Breathe in pure air, and do it properly.
7.  Rest well, remembering that the best rest follows labor.
8. Trust in divine power as you make choices and seek inner peace.
Health ministries are an integral part of the mission of the Adventist Church. "Whether therefore ye eat, or drink, or whatsoever ye do, do all to the glory of God" (I Corinthians 10:31). Health ministry is the gospel of Christ illustrated, the message of God practiced. Without it, the gospel witness is muted; it is merely a theory, an idea.

The most important objective of health ministry is to help men and women reach their full potential mentally, spiritually, and physically. To reach full potential, health principles must be practiced.

The more closely these principles are followed, the better health the person enjoys. The more active a church is in public health education, the more effective will be its public evangelism, for health is the most universal entering wedge.
Health Ministry Leader: Cindy Washington